SAF Learning
Courses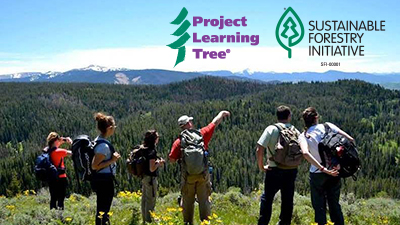 Teaching Youth and Communities About Forests
Strengthen your outreach and education efforts to youth as well as adult audiences using Project Learning Tree (PLT).
COMING SOON!
New courses will be coming available in the weeks to come:
NEW! - Silviculture Alternatives
NEW! - Herbicides Best Practices
Register Now!
Teaching Youth and Communities About Forests
4.0 Category 2 CFEs
Short course curated by the Sustainable Forestry Initiative
ON THE HORIZON
Physical Science of Forests, Climate Regulation, and Forest Carbon
Registration re-opens Spring 2020
1.5 Category 1 CFEs
Short Course Curated by:
ForestEd Suggestion Box
Customer Support
If you need assistance with registration, accessing a ForestEd product you purchased, or other customer service-related issues, please email cf@safnet.org during normal office hours: Monday - Friday, 8:00 am - 4:30 pm ET.
Sponsors
For sponsorship opportunities, contact Naomi Marcus at marcusn@safnet.org