SAF Learning




To view a session, click on the list of events below, and then click the "Watch Presentation" button.
Plenary Presentations
Plenary 1: Evolving Forests, Evolving Field
Watch Presentation
Overview
---
Setting the stage for convention and remarks by Sarah Lillie Sewell, we hear from Allegheny SAF local leadership, SAF2022 program and general chairs, SAF President and SAF CEO.

As we know, the health and quality of our forests have huge implications on our ability to withstand the threats of climate change. But what about the people within the forestry field itself? Do we have a sustainable workforce to plant, steward, and produce goods from the millions of trees across our country? Many employers in our sector are facing a labor shortage exacerbated by the Covid-19 pandemic? a shortage that precedes the impending mass exodus of baby-boomer professionals from the workforce into retirement that has leaders wondering who will manage and conserve our lands in the future. Sarah Lillie Sewell, Founder and CEO of Lillie Leaf Solutions, will share her perspective on how we can sustainably grow and retain diverse talent to steward America's forests. Through her work to grow the field in Baltimore, MD and in cities across the country, Sarah will discuss successful models and lessons learned for how we as a profession can better reflect the priorities of all who benefit from the forests we steward.
Speaker: Sarah Lillie Sewell - Lillie Leaf Solutions
Moderator: Nan Pond - NCX
SAF CFE: 1.0 Category 1
ESA CEU: 0.25
Plenary 2: Bridge Builder - Creating Trusting Partnerships
Watch Presentation
Overview
---
Before we learn about the value of building bridges, celebrate your peers being recognized for their accomplishments and contributions to the profession during the awards parade.

As the practice of forestry continues to evolve, foresters and natural resource professionals are increasingly challenged to explain the relevance of resource management in a changing world. Doing this effectively requires us to understand the perspectives of those with whom we are engaging. Not only do we need to educate landowners about the economic, ecological, and societal benefits of forests; and how to think about management, conservation, and preservation, but we also need help educate professionals to provide needed context and perspective of these landowners that have endured a history of land loss, exclusion, and exploitation for their lack of knowledge. Dr. Jennie L. Stephens will present lessons learned from the work of the Center for Heirs' Property Preservation, where she has served as the Director/CEO for the past 17 years. Through the lens of the Center's efforts to provide access to education around forest management and meeting diverse objectives for families and landowners, she will offer attendees insights and ideas for engaging new stakeholders in our work.
Speaker: Dr. Jennie L. Stephens - Center for Heirs' Property Preservation
Moderator: Kyle Gill - University of Minnesota
SAF CFE: 1.0 Category 1
ESA CEU: 0.25
Plenary 3: Sustaining Forward - Our Call to Action
Watch Presentation
Overview
---
Wrap up this annual event with closing remarks from SAF CEO, reflections by our closing plenary speaker, and get excited about SAF2023 in Sacramento, CO with the "passing of the torch."

Our understanding and practice of sustainability has evolved over the last several decades. The diversity within "Our Working Mosaic" has contributed to changing our understanding of what sustainability means and what links our inter-disciplinary professional community to sustainable forest landscapes. Katie Fernholz, President and CEO of Dovetail Partners, will pull from her experiences about planning and problem solving across diverse perspectives to support shared learning and better understanding. Drawing on the visualizations of a graphic recorder, a call-to-action will be provided for convention attendees to take what they've learned and implement it in their daily work.
Speaker: Kathryn (Katie) Fernholz - Dovetail Partners
Moderator: Marcella Windmuller-Campione - University of Minnesota
SAF CFE: 1.0 Category 1

ESA CEU: 0.25
Thursday Think Tanks
TTT #1: The Changing Impact of Forests on Investments
Watch Presentation
Overview
---
Forests in many areas of the United States were once owned and managed by forest products companies that were vertically integrated. By the 1990s, forest ownership and management transitioned primarily to TIMOs and REITs. At the same time, private non-industrial forest owners continue to own and manage a large portion of the total US forestland. Today, trees and forests are valued as natural climate solutions and natural capital including the carbon sequestration and ecosystem services they provide. The increase in environmental, social, and governance (ESG) investing puts forests front and center. Learn from this diverse panel on what has shifted in forest investment over the last several decades, what values ESG investors place on forestlands, and how changing investments may lead to forest management changes on the ground.
Moderator: Melissa Kreye - Pennsylvania State University
Panelists:
Fred Cubbage - North Carolina State University
Robert (Bob) Hagler - New Forests
Pete Madden - U.S. Endowment for Forestry and Communities
Daowei Zhang - Auburn University

SAF CFE: 1.5 Category 1
ESA CEU: 0.375
TTT #2: Diversity of Career Paths
Watch Presentation
Overview
---
Explore the ideas of 'traditional' and 'non-traditional' careers in forests. Panelists from a range of educational backgrounds, work environments, and professional pathways share their stories, reflect on their career progressions, and examine the future of the next generation of land stewards. The unique journeys of each panelist will highlight the similarities and differences of the work done in forests by forestry and natural resource professionals across the United States and around the world to ensure the continued health and sustainability of our forests to benefit society.
Moderator: Ashley Garrison - Colorado State Forest Service
Panelists:
Lauren Pile Knapp - Northern Research Station - University of Missouri
Andrew Robertson - Wisconsin Board of Commissioners of Public Lands
Jim Schriever - Woodland Solutions Group
Amy Shaunette - University of Minnesota graduate student
SAF CFE: 1.5 Category 1
ESA CEU: 0.375
TTT #3: Maintaining and Managing Healthy Urban to Suburban Forest Ecosystems
Watch Presentation
Overview
---
Urban and suburban forest ecosystems are increasingly managed to maintain healthy forests for multiple values and uses. Whether a few trees along a city street or hundreds of acres within a metropolitan city or suburban landscape, these forests provide great value to the people and infrastructure surrounding them. Yet, these ecosystems face unique forest management challenges including effects of climate change, invasive species, increasing overstory tree age, and other disturbances. In this session, panelists will explore urban and suburban management, community engagement and involvements, and future directions within forest ecosystems.
Moderator:

Marcella Windmuller-Campione - University of Minnesota
Panelists:
Auste Eigirdas - University of Minnesota
Richard Hallett - USDA Forest Service
Igor Lacan - University of California Cooperative Extension
Marisa Repka - Cambium Carbon
SAF CFE: 1.5 Category 1
ESA CEU: 0.375
| Access Date | Quiz Result | Score | Actions |
| --- | --- | --- | --- |
Browser Recommendation
Use Chrome, Firefox, Edge, or Safari.
DO NOT USE Internet Explorer.
Registration Now Open!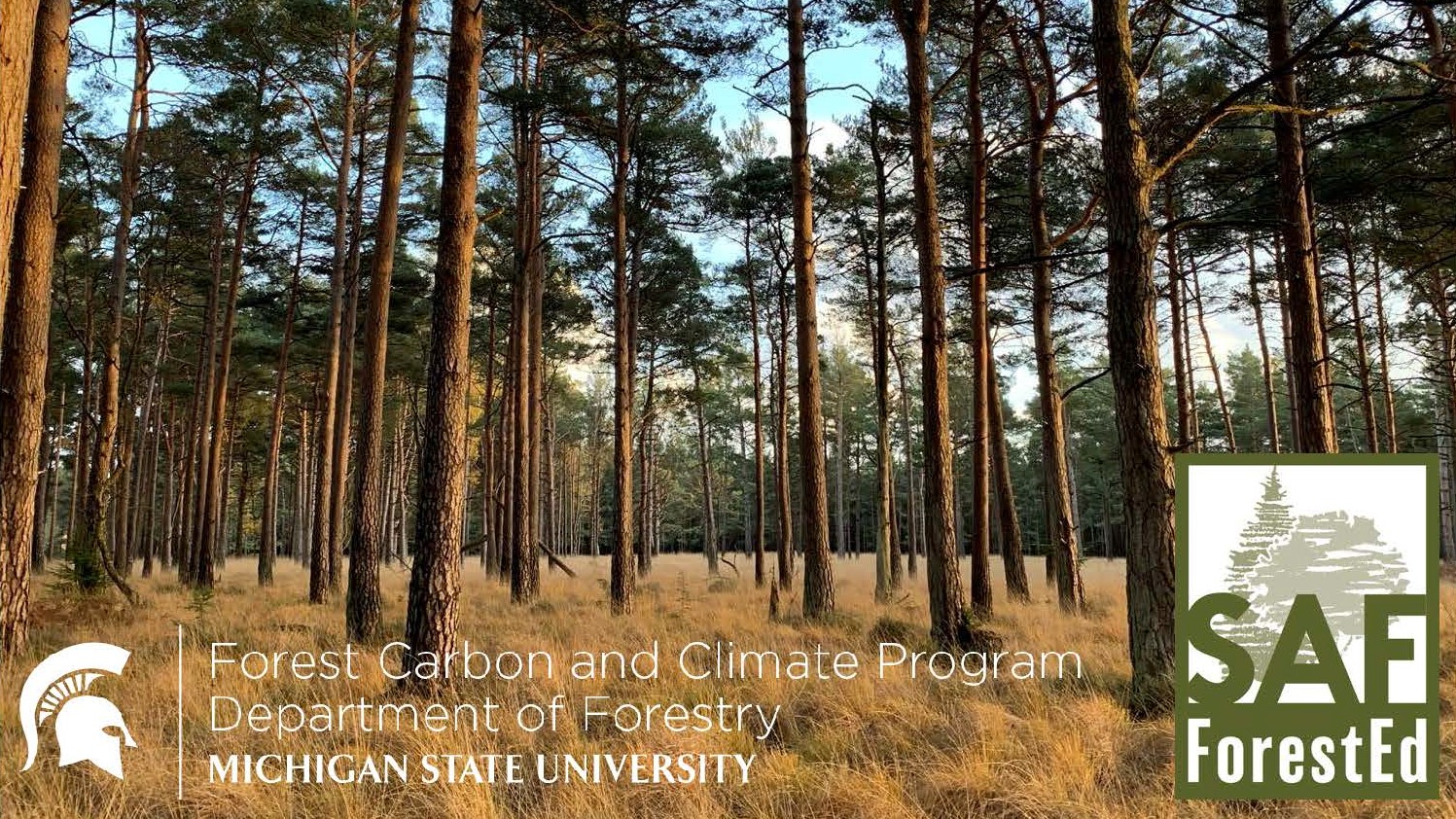 Physical Science of Forests, Climate Regulation, and Carbon Storage
Registration open through April 10, course opens April 4
5 Sections, Self-paced over 6 weeks
$175 Member // $220 Non-member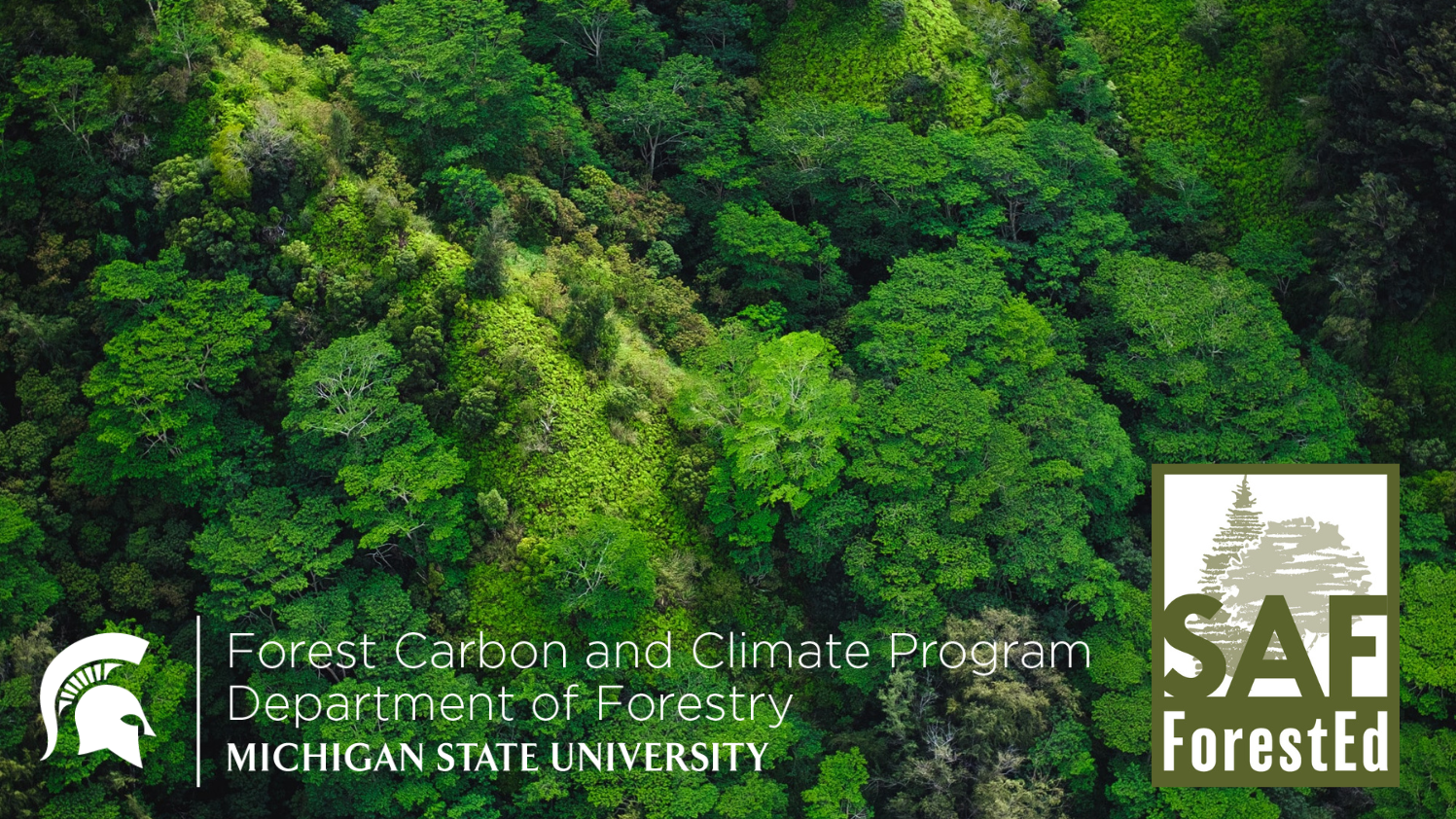 Forest Carbon Markets and Initiatives
Registration open through April 10, course opens April 4
4 Sections, Self-paced over 6 weeks
$175 Member // $220 Non-member
Enroll Today!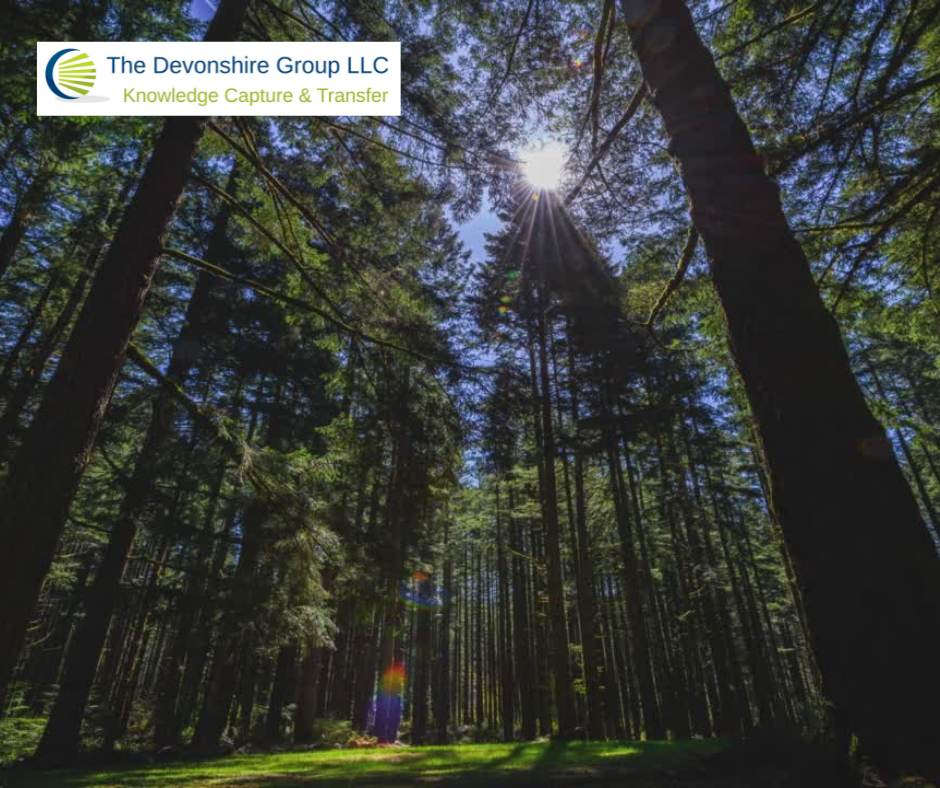 Silviculture Alternatives for the Pacific NW
Virtual workshop open for enrollment!
4 Sections, Self-paced
$150 Member // $215 Non-member
ForestEd Suggestion Box
Customer Support
If you need assistance with registration, accessing a ForestEd product you purchased, or other customer service-related issues, please email cf@safnet.org during normal office hours: Monday - Friday, 8:00 am - 4:30 pm ET.
OFRI Sponsored - Free for SAF Members
Sponsors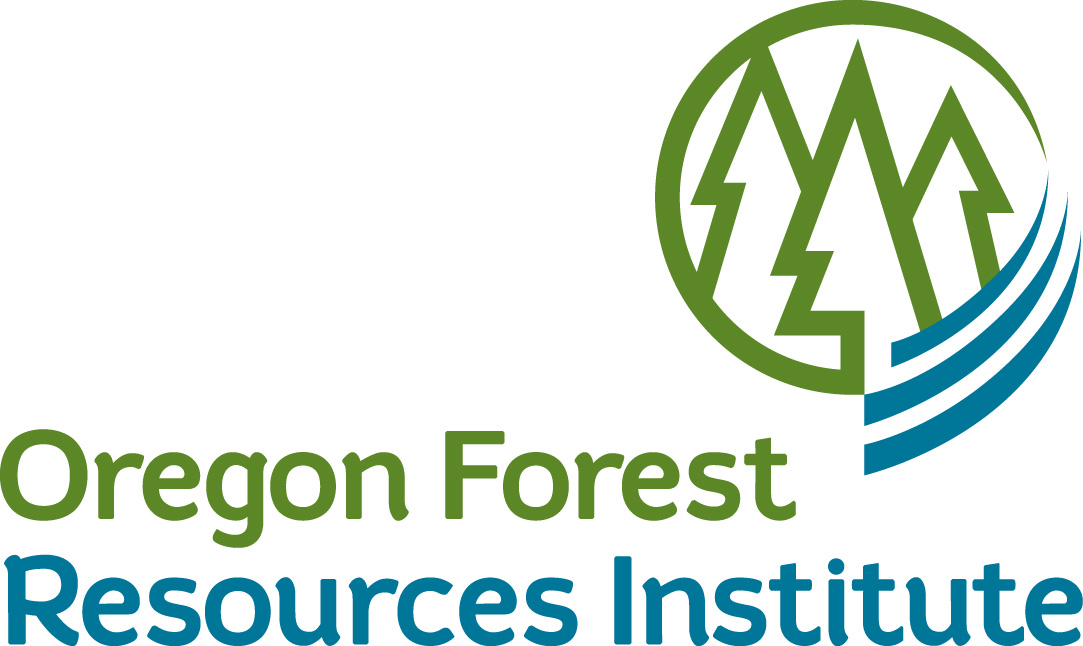 For sponsorship opportunities, contact Naomi Marcus at marcusn@safnet.org